New Bible Study
Pastor Sam will lead a Bible Study on THE EPISTLE of ROMANS, focusing on The Gospel of God, The Grace of God, The Wrath of God, The Plan of God, The Will of God, and The Providence of God. Paul's letter to the young church in Rome continues to influence through the ages. The Letter to Romans gives us the complete picture of the Gospel. Using Wesleyan language, Paul in this letter unfolds the great three-fold-theme of justification, sanctification, and glorification both theologically and practically. Just your Bible of any version is needed for joining the study. In-person study will be on Wednesdays at 10:30 am in the Fireside room beginning January 12, 2022 through May 18, 2022. The study via Zoom will be on Thursdays at 6:00 pm beginning January 13, 2022 through May 19, 2022. Please register by calling the church office or through sign-up along with your email if you plan to attend the Thursday Zoom Bible study.
---
Pastor Sam will lead a book study on Philip Yancey's book: Disappointment with God: Three Questions No One Asks Aloud. In this book, the author poses three questions that Christians wonder about but seldom ask aloud: Is God unfair? Is He silent? Is He hidden? Yancey answers these questions with clarity, honesty, and biblical assurance. He points us beyond life's disappointments and the cynicism that they can breed, to a stronger and wiser faith, a confidence in God's deep love for us, and a thirst to reach not just for what God gives, but for who God is.
Classes will be held on Wednesdays at 10:30-11:30 am in the Fireside Room beginning September 15 and on Thursdays at 6:00-7:00 pm via Zoom beginning September 16. Both classes are the same so please contact the church office to register for either the in-person class or the Zoom class.
---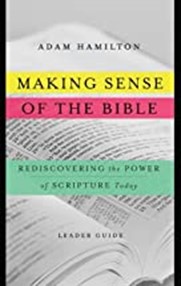 Disciples Class-Confirmation Room: This semester, Tom Bolton's Disciples Class will study Adam Hamilton's Making Sense of the Bible: Rediscovering the Power of Scripture Today. We are using the 2014 edition. Each week there will be a reading assignment of one or two chapters. Many weeks a 15-minute video with Adam Hamilton will be shared. Tom Bolton will facilitate group discussion and provide a "taking it with you exercise". In Making Sense of the Bible, Adam Hamilton, one of the country's leading pastors and Christian authors, addresses the hot-button issues that plague the church and cultural debate. And answers many of the questions frequently asked by Christians and non-Christians alike: Did God really command Moses to put gay people to death? Did Jesus really teach that everyone who is not a Christian will be assigned to hell? Why would Paul command women to "keep silent in the church?" Were Adam and Eve real people? Is the book of Revelation really about the end times? Who decided which books made it into the scriptures and why? Is the Bible ever wrong? In approachable and inviting language, Hamilton addresses these very often misunderstood biblical themes leading readers to a deeper appreciation of the Bible so that we might hear God speak through it and find its words to be life-changing and life-giving. Tom will share handouts by other Bible scholars as well.
---
Adult Discussion Class Title: Creed: What Christians Believe and Why? by Adam Hamilton Facilitator: Class Participants Location: Fellowship Hall (SW Corner) Description: The class will begin the year discussing Creed, which we began discussing before the pandemic. It is a "pastoral" rather than an historical or theological view of the Apostles Creed. Hamilton approaches the subject with refreshing humility rather than the dogmatic "certainty" of many religious studies. His focus is on how this ancient statement should influence the lives of contemporary Christians. The class will then research and decide on future books for discussion.
---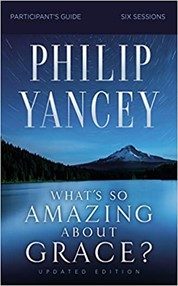 Book Study Title: What's So Amazing About Grace? by Philip Yancey Facilitator: Laura Grabowski Location: Lighthouse Room Description: We will explore God's grace. Other religions have beliefs about resur-rection from the dead and a self-sacrificing god, but the belief that is unique to Christianity is Grace. Do you feel your life is filled with receiving and dispensing grace? As Christians we should always strive to be holy, but we don't always understand God's abundant love and grace. The book contains a number of stories of grace and some stories of ungrace. You may have stories of your own that you may want to share as we journey through the book.
---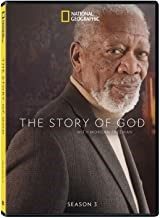 Adult Interest Group Title: Video Series: The Story of God Facilitator: Ken Ilseman Location: Fireside Room Description: The class will resume viewing and discussing the video series featuring Morgan Freeman. In this series, Morgan Freeman meets a man who felt God's presence, learns how Muslim's hear God's voice in the Quran, comes across a tribe whose members believe they can channel the healing powers of the divine, and encounters a physicist who has faith that science will lead him to God.
---
What Does the Bible Say? with Michael Odle. The class will meet at 7:00 pm the second Monday of each month (except December). We have just finished a successful study of the Book of Acts using Zoom and are looking forward to a new, faith-building study this fall. And since we will continue using Zoom, you can even join us in your jammies! Fear not! This can be fun, and we won't even have to leave our homes to do it. Anyone can participate by using a desktop or laptop computer or a tablet or a smart phone or even a traditional land-line telephone (audio only). Simply contact the church office to let me know you want to join us and the Zoom information (and clear instructions) will be sent to you. The first class is September 13. So grab your favorite Bible and join in!
---
Book Discussion Group will meet the third Monday of the month (except December, July, August). Facilitator: Val Holzman Location: Bernice Nailen Memorial Library Description: This daytime group reads and discusses books recommended by the United Methodist Women. It is open to everyone who likes to read! On Monday, October 18, at 1:30 pm the group will discuss Lisa Bevere's book: Adamant: Finding Truth in a Universe of Opinions. The author takes readers on a journey into the Mountain of God, to the one place they can learn not only to abide in God's unshakeable truth and love, but become adamant–people who are unmovable, determined, and steadfast. All are welcome. The group meets in The Bernice Nailen Memorial Library.