Click here to see the Adult Christian Education opportunities coming up in Winter/Spring of 2024!
---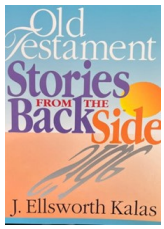 Title: Pastor Sam's Book Study- Old Testament Stories from The Backside.
Facilitator: Sam Royappa
Location: In Person Class on Wednesdays / Zoom Class on Thursdays
Date/Time: In Person Wednesday 10:30am / Zoom Thursdays 6:00pm
Pastor Sam will lead a book study on J. Ellsworth Kalas' book Old Testament Stories From The Backside. This study will be held in-person on Wednesdays and via Zoom on Thursdays, starting on September 13th at 10:30 am and September 14th at 6:00 pm, and will continue until early December 2023. The study will focus on the life stories of twelve Old Testament characters, both men and women, who struggled with themselves, each other, and God. By studying these stories, we can better understand ourselves and our own lives, and renew our commitment to love God and people more. This study offers a unique opportunity to be inspired by the stories of the Old Testament and transform ourselves in light of their experiences. To register with your email, please call the church office.
---
Title: Jesus in the Gospels by Leander E. Kech  

Facilitator: Tom Bolton
Location: Confirmation Room
Date/Time: September 17 – 9:30-10:30am
Tom is continuing the Discipleship Bible Study at First Church: Jesus in the Gospels. New participants are welcome to join the group. This is a 30-week study that invites believers to look at Jesus in each of the four Gospels and ask the question," Who is the Jesus that you see?" Study the names, the places, and the people—and encounter Jesus, who is both hard to ignore and hard to control, as portrayed in Matthew, Mark, Luke, and John. The 30 lessons are divided into 60 weeks so that we will go over parts of two years. This way, you don't have quite as much to read each week. We will not meet in the summer or on holidays when classes are not meeting.
---

Title: Acts of the Apostles 
Facilitator: Laura Grabowski
Location: Lighthouse Room
Date/Time: September 17 – 9:30-10:30am
Come along for an action-packed journey through the Acts of the Apostles. Witness the excitement on Pentecost, the birthday of the Christian Church. Rejoice with the new believers as they share all things in common and gather for worship. Then the Jewish authorities, threatened by the miracles the apostles are doing in Jesus' name, begin to harass the apostles. The converts at first were primarily Jews, but then Peter has a vision, which convinces him the message is also for Gentiles. See how the stoning of Stephen leads to the scattering of the church, which spreads the Word farther afield. Then God calls Saul, who has been zealously persecuting Christians, to preach to the Gentiles. The story includes riots, a shipwreck, and courtroom scenes where you will hear Paul's skillful arguments to Jews and Greeks. All of the apostles work tirelessly to spread the Gospel. 
---
Title: What Does the Bible Say?
Facilitator: Michael Odle.
Location: Zoom
Date/Time: Second Monday of each Month beginning September 11, 2023 (except December) 7:00pm Zoom
Description: In the fall we will continue our in-depth, faith building study in the book of Romans. As an added bonus, we on't even have to leave our homes to join this Zoom-based study. Anyone can participate by using a desktop or laptop computer or a tablet or a smartphone or even a traditional land -line telephone! Simply contact Michael or the church office to let us know you want to join us and the Zoom information (and clear instructions) will be sent to you. The first class is on September 11, 2023. So grab your favorite Bible and join in!

---
Title: Book Discussion Group
Facilitator: Val Holzman
Location: Bernice Nailen Memorial Library
Date/Time: Third Monday of the Month (except July, august and December) 1:30pm
Description: This daytime group reads and discusses books recommended by the UWIF. Open to all who enjoy reading! The first Book Discussion is on Monday, September 18th at 1:30 pm, where we will discuss Vivek H Murthy, M.D.'s book Together: The Healing Power of Human Connection in a Sometimes Lonely World. Murthy's book highlights the importance of human connection and how loneliness can have a hidden impact on our health and society. Murthy argues that loneliness is a public health concern that contributes to many of the epidemics we face today. However, as social creatures, our innate desire to connect with others is the solution to this crisis. The book's four key strategies have immediate relevance and application to our lives.
October 16, 2023 – Our Growing Tree – From Self-Love to the Beloved Community and All of God's Creation: A Biblical Exploration of Luke 13 by Ilka Vega
November 20, 2023 Nevertheless: American Methodists and Women's Rights By Ashley Boggan Dreff
---
Other Adult Education Opportunities
Sometimes it is just easier to have the Bible read to us than to read it our-selves, isn't it? Here are three FREE good options for hearing the Bible read on a daily basis. Each reads a selection from the Old Testament, New Testament, Psalms, and Proverbs. All are available as an app also.
OneYearBiblePodcast.com – The Bible is read in a clear, straightforward fashion without commentary.
DailyAudioBible.com – The Bible is read through in a year by rotating what version is read each week. There is a ten minute mediation/commentary each day.
DailyRadioBible.com – The Bible is read through using the New Living Translation. There is a ten minute daily meditation/commentary each day.
Check out Pastor Glenn McDonald's 5-minute morning reflection program. It's accessible on your phone and available as a podcast. Join by going to glennsreflections.com.