In Person Service Has Been Paused for 4 Weeks
In light of multiple factors related to the surge and the spread of the Coronavirus and its variants, the recommendations from the Wisconsin Annual Conference, and the Wisconsin Council of Churches, the Church Council held a special meeting on January 10, 2022, at 6:30 pm. After a very difficult conversation and discussion, the Church Council decided the following:
Thank you for your continued support, understanding, prayers, and participation in the life and ministry of FUMCWA. The Church Office will be open as scheduled in the January Methodist Messenger.
---
Worship Service Experience
To worship is to experience awe in the presence of the Living God. Children and adults learn more about God and more about themselves.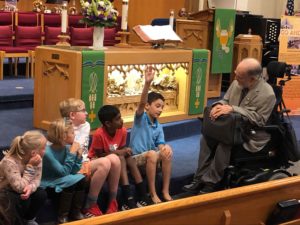 Our worship services are family friendly. A children's message is a special time set aside for children after which your children can continue to share the worship experience with you or they can join other children in our supervised nursery.
Save
Save
Save
Save
Save
Save
Save
Save
Save
Save
Save
Save
Save
---
A Warm Greeting
A heart felt greeting is part of what makes a church a church. Our greeters will welcome you as you enter the door. They will help you find a seat, or help locate the nursery or a Sunday School classroom for your children. No matter what questions you might have, they are there to answer them. Complimentary gourmet coffee is served near the entrance to the worship center for all our guests.
You are also welcome to participate in one of our faith strengthening study groups or have your children attend a Sunday School group during the time between our two worship services.
---
What Should I Wear?
Whatever you want! We welcome face masks, jeans, t-shirts, ties, tuxedos…you get the idea. Come as you are for any worship service.